Dashboards
Vision:CHC Dashboard tracks over 50 Key Performance Indicators (KPIs) that are vital to managing a health center.
By monitoring KPI performance against established goals, and automatically generating alerts, Vision:CHC Dashboard gives CHC and public health executives a tool to pro-actively address issues before they become problems.
Among the Vision:CHC Dashboard features are:
Drill-down analysis and reporting
Executive-level performance scorecard with automatic email alerts
Continuous monitoring of performance against goals
Automated revenue cycle monitoring and analysis
Elimination of time-consuming spreadsheet work
Report distribution to key staff via email, exported to Excel and PDF
Reports displayed as interactive dashboard screens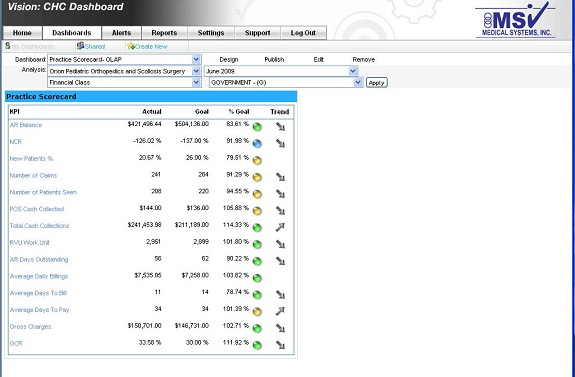 To learn about Vision:CHC management reports that fully address CHC and public health unique reporting needs, see Vision:CHC Reporting.
To learn more about Vision:CHC, please contact us at info@msi-chc.com
or Download our brochure