Vision:CHC for Public Health
Vision:CHC is a comprehensive software solution designed to meet the clinical, financial, and reporting needs of State public health departments.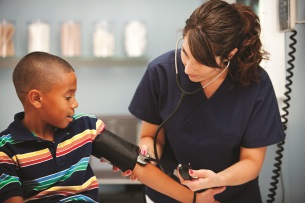 Vision:CHC is the culmination of 30 years' experience supporting facilities that provide a broad array of services to the underserved. The result is a unique combination of medical, behavioral health, administrative, and reporting solutions that is unsurpassed for Public Health.
Using program-centric systems, providers and their staff spend a third of their day entering patient information for one program that already exists in others. With Vision:CHC, they document patient information once for all programs, allowing them to spend more time with patients.
Vision:CHC consists of:
Vision:CHC includes forms and templates for fast, easy documentation and tracking of services provided under a variety of public health programs, such as:
Maternity care
Women's health
Breast and cervical cancer screening
Child health and pediatrics
Pediatric and adult Immunizations
Family planning
Nutrition
Home health
Health education
Communicable diseases, including STD, HIV, and TB
Substance abuse
Chronic disease management
Behavioral health
Adult medicine

Vision:CHC EHR feels natural to community-based service providers because it was designed by physicians with experience managing community clinics. Its dynamic templates allow clinicians to quickly create encounter notes for patients receiving services under a variety of public health programs. Real-time queries and dashboards simplify chart reviews and compliance tracking for Meaningful Use, PCMH, and PQRS. Vision:CHC also interfaces with Immunization Registries, Communicable Disease Registries, and Health Information Exchanges.
Vision:CHC EHR Dashboards display Meaningful Use and Patient-centered Medical Home data real-time for both the patient and the entire clinic. Therefore, clinical and administrative staffs do not need to compile Meaningful Use, Medicaid, and PCMH statistics and reports. The integral efficiency of Vision:CHC means a reduction of hundreds and even thousands of hours spent in administrative time, which can be devoted to patient care.
Most importantly, Vision:CHC EHR facilitates the delivery of quality care to a public health agency's patients and to the larger community.
Core features:
Certified for Meaningful Use and PQRS
Designed by physicians with experience in community health
Simple, efficient design - all data is accessed and entered from just two screens
Real-time Meaningful Use compliance dashboard for the patient and the entire clinic
Tasks are organized on a customizable Outstanding Work List (OWL) dashboard
Room Board for work flow management
Evidence-based quality reporting
Real-time quality care reminders alert the provider of procedures and treatments to review
HIPAA-compliant and CCR/CCD-compatible electronic and paper patient summary
Patient portal
Electronic prescribing
Lab interface for orders and results
Document management
Correspondence generator
Interfaces to Immunization Registries, Disease Registries, and Health Information Exchanges

The core of Vision:CHC Practice Management is clinical, operational, financial, and reporting unique to community-based clinics and public health departments that provide care to the underserved. Vision:CHC's unique centralized console design allows easy access to all functions relevant to front desk, billing, and administrative staff.
Core features:
Single-entry patient registration

Complete demographic capture for comprehensive reporting
Unlimited patient accounts and insurances
Abbreviated pre-registration for fast intake and scheduling

Multi-resource Appointment Scheduling

Access to all functions from a centralized Appointment Console
Customizable schedules and time blocks for programs and clinics
Batch eligibility checking for next day's scheduled patients
Automatic patient quality care reminders for front desk staff
Hold slots for walk-ins
Easy check-in and work flow management

Billing and Accounts Receivable

Paperless charge capture
Specialized Medicaid and Medicare billing
Automatic sliding fee calculation
Claims are scrubbed for errors prior to submission
Claims wizard for custom-tailored claims submissions andre-submits
Access to all functions from a centralized Billing Console for error correction and claims follow-up
Integrated all-payer claims clearinghouse
Revenue cycle management and collections system
Electronic remittance

One of a health department's most important assets is its data. Vision:CHC captures important data during patient registration, scheduling, clinical documentation, and billing. An outstanding value of Vision:CHC is its ability to access this data in a form that can be used for decision-making, program tracking, grant applications, and mandated reporting.
Vision:CHC includes a reporting tool that is easy to use and can access all of Vision:CHC's data elements.
Core features:
A Report catalog with more than 200 reports designed exclusively for community and public health
A full set of Medicaid reports updated annually and ready to run
Aggregate reports specifically designed for Meaningful Use, disease and Immunization Registries, and Health Information Exchanges
An end-user report generator designed for grant, ad hoc, and evidence-based clinical report writing
Customizable management dashboards with drill-down analysis and reporting
Executive-level performance scorecard with automatic email alerts
Management dashboards track over 50 key performance indicators (KPIs)
All reports reside on the server for easy access and retrieval
All data are ODBC-compliant and can be exported in many standard formats

To learn more about Vision:CHC, please contact us at info@msi-chc.com
or Download our brochure