Electonic Health Records
Vision:CHC Electronic Health Records: designed by FQHC physicians for community and public health providers.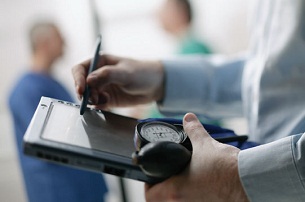 Vision:CHC feels natural to community and public health providers because it was designed by FQHC physicians.
Its dynamic templates allow physicians to quickly create encounter notes during visits without diverting focus away from patients. Real-time query and reporting simplify chart reviews and aggregate reporting for Meaningful Use and the Registries.
Most importantly, Vision:CHC facilitates the delivery of quality care to a clinic's patients and to the larger community.
Our Value Proposition
Vision:CHC is the only EHR designed from the ground up to help physicians do their job quickly and efficiently. Increased physician productivity gained through Vision:CHC translates into tangible economic support for the clinic. In fact, increased physician productivity will provide the health center with incremental cash revenue that is 3 times the cost of Vision:CHC.
Vision:CHC collects and aggregates clinical data real-time for Meaningful Use. Therefore, health center clinical and administrative staffs do not need to compile Meaningful Use statistics and reports. The integral efficiency of Vision:CHC means a reduction of hundreds and even thousands of hours spent in administrative time, which can be devoted to patient care.
Certified for Meaningful Use and PQRS
Designed by physicians with experience in community health
Simple, efficient design – Providers access and enter all patient data from only two screens
Real-time Meaningful Use dashboard for the patient and the entire clinic
Tasks are organized on a customizable Outstanding Work List (OWL) dashboard
Room Board for patient and work flow management
Evidence-based quality reporting
Real-time quality care reminders alert the provider of procedures and treatments to review
HIPAA-compliant and CCR/CCD-compatible electronic and paper patient summary
Patient portal
Electronic prescribing
Lab interface for orders and results
Document management
Correspondence generator
Interfaces to Immunization Registries, Disease Registries, and Health Information Exchanges
Among the core features of Vision:CHC are:
To learn more about Vision:CHC, please contact us at info@msi-chc.com
or Download our brochure